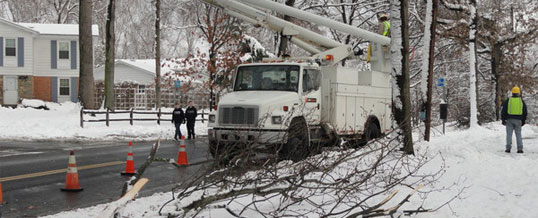 Montgomery County prepared Tuesday for what forecasters predict could be the region's first significant snowfall in more than two years.
The National Weather Service issued a winter storm warning for Montgomery County for midnight Wednesday through 3 a.m. Thursday.
The storm was expected to begin as rain late Tuesday before becoming heavy, wet snow by Wednesday afternoon, making for a potentially "sloppy, snowy evening rush with increasing winds,"WJLA reported.
Montgomery County could see 6 inches to a foot of snow, The Washington Post's"Capital Weather Gang" blog predicted.
"This storm will most likely end Washington's longest streak on record without a snowstorm of at least two inches, which has lasted for the last 769 days. It should be the biggest snowstorm since Commutageddon, on January 26, 2011," the blog said.
The potential for heavy snow and strong winds led Pepco to make robocalls to customers Tuesday saying the utility was "preparing and encourage our customers to prepare as well."
County Council President Nancy Navarro posted a message from the utility on her Facebook pagethat said, "Pepco is preparing for the worst of the forecasts."
"We have more than 450 overhead line contractors already working on the system and available, along with over 300 tree contractor crews actively performing reliability enhancement tree trimming work, in addition to preparing for restoration work," the utility reported on its website.